Professional Aquarium Design
CUSTOM AQUARIUM DESIGN MIDDLE TENNESSEE
CUSTOM AQUARIUM DESIGN, CUSTOM AQUARIUMS FOR THE MURFREESBORO, NASHVILLE, MIDDLE TENNESSEE AREA.
TAKE ADVANTAGE OF OUR DECADES OF EXPERIENCE!
Easy custom aquarium design! Build the tank of your dreams today!
With today's technology and resources, your dreams are never too far from reality. Reef Route Aquatics has the network to accomplish your aquarium goals. Your imagination, and budget are the only restrictions.
Start your aquarium design as easy as 1,2,3!
You can call or submit a request form. Getting in touch with our fish tank expert has never been easier.
With our free consultation, we'll figure out exactly what you want and what your animals need.
We'll do all the work, and you can rest easy knowing all of your aquarium demands are taken care of.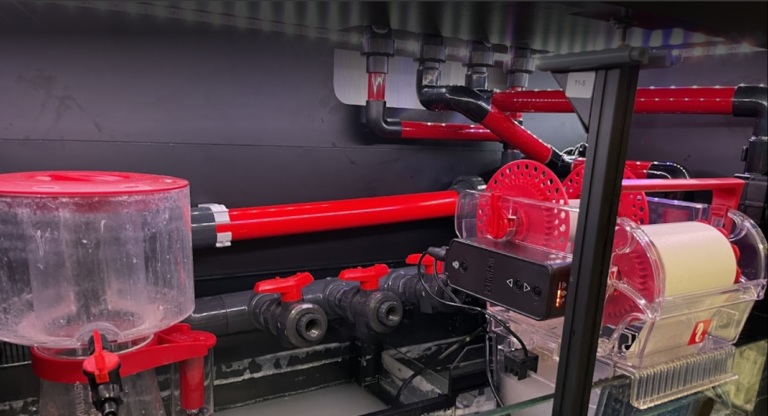 Reef Route Aquatics has been designing and engineering aquariums for years. With our extensive network and resources, we can help you build the tank of your dreams.
Building an aquarium can be an expensive endeavor. However, we can accommodate the budget builder. All budget building really means is that someone has more time to spend working on their aquarium. The expensive build has more automation, bells, and whistle. The owner will spend more time enjoying their tank versus working on it.

The majority of custom aquarium builds are reef tanks and built in wall aquariums. Reef Route Aquatics has a reliable network of aquarium manufactures and contractors to get the job done right!
This is a great example of how a custom aquarium design can change a space. The situation here is an older building with wall notch that use to house a water fountain. (You can see where they're trying to hide the old plumbing connections with a picture under the table.)
Personally, I would have pulled the baseboard molding to get a tighter fit, but they are only renting this building, and didn't really know if the leasing company would allow that. So, we had to leave it as is.
With a custom build we were able to get a very nice fit, and it's the closest you can get in this situation to a in wall aquarium. Just imagine what this is going to look like in a few months after planting…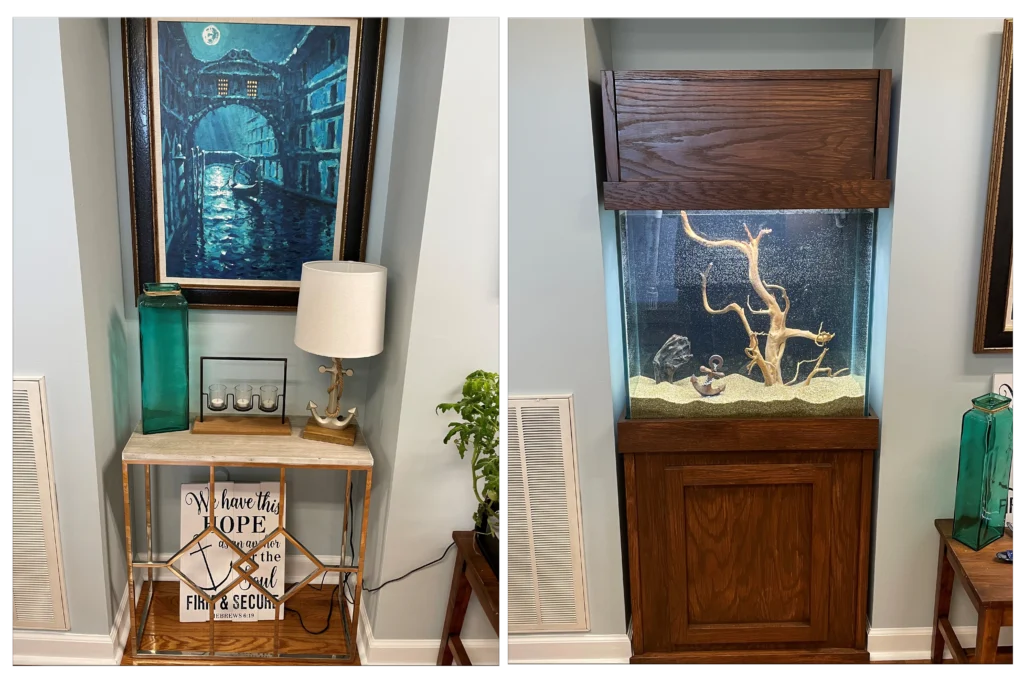 Another custom aquarium design. This is a 125 gallon aquarium at a local elder care facility here in middle Tennessee. To fill up this big wall we need a long aquarium. The six foot aquarium is standard for it's size. However, the customer wanted a higher end aquarium and stand. 
This will eventually be a planted aquarium with Amazon basin fish. We are looking forward to housing our Discus and Angel fish here in a few weeks.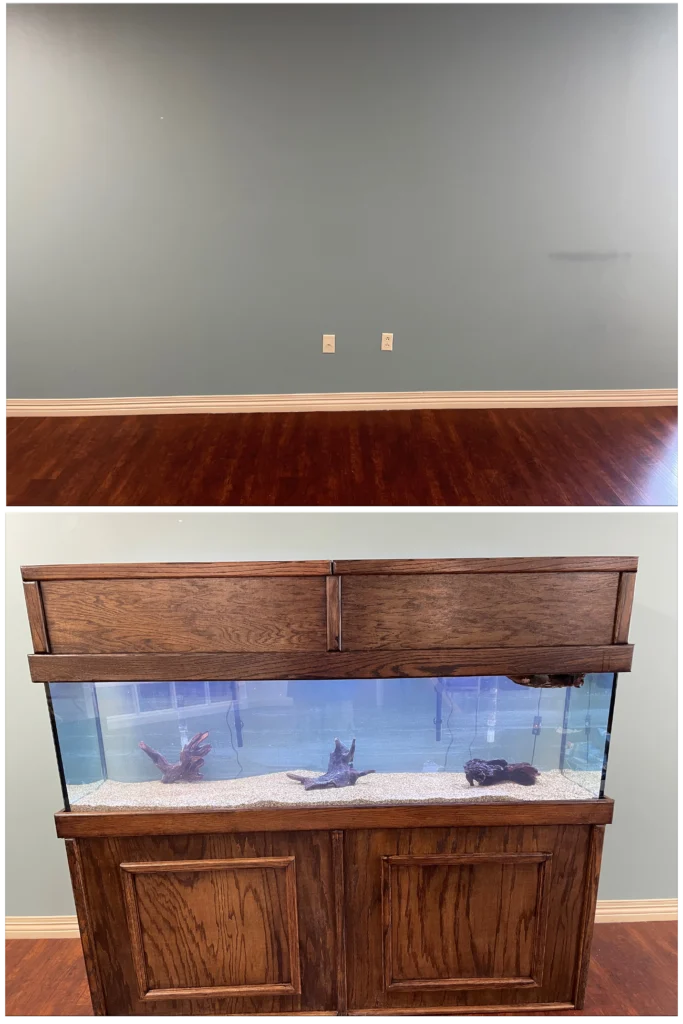 "Reef Route did a truly spectacular custom installation today on my 150 gallon saltwater tank setup in the Nashville area. Robert is a wealth of knowledge in the marine hobby; as my only prior experience is with a fresh water tank, and I'm making the giant leap to a reef tank. I made the right choice for my aquarium installation and maintenance. The knowledge, professionalism, and enthusiasm for ME to succeed is genuine! Thank you!!"
CUSTOM AQUARIUMS DESIGN CONSIDERATIONS
STEP 1.) What kind of fish do you want to keep?
Although we can provide you with a blank design, this is not idea. You should really have some sort of vision as to what it is you want to keep. This not only saves you money, but helps determine the type of equipment necessary to be successful. 
STEP 2.) Glass versus Acrylic.
Acrylic is very clear and scratches easily. While glass has a tint, and is harder to scratch. 
This is very situational and most of the time, the user preference. However, if you're wanting a through wall, or room dividing aquarium, acrylic is the way to go. With proper care and maintenance, the fish will look like they're flying in mid air. 
STEP 3.) Filtration/Life Support System.
Filtration, life support, or water flow are probably the most important decision to make. Saltwater and reef tanks will require more flow and specialized filtration, while a freshwater setup requires less flow and more standard or common filtration methods. 
Depending on the type of fish or aquarium you want to keep. Lighting is either very important, or not at all. 
If you're just wanting a fish only system, you don't need a lot of light. Contrary to popular belief, fish really don't need light. In the wild they spend most of their day hiding in the shadows, or come from naturally murky waters. The lighting options we chose, should enhance color, and allow us to view them. 
Now if we're wanting a planted, or reef aquarium, that's a different story and those plants and animals have different requirements. They need the light in order to survive, and make food for them selves. This relates to a more specialize lighting scheme, and adds to the expense. 
STEP 5.) Location, Location, Location...
Arguably maybe this should be the  first step in deciding on an aquarium, but not directly related to the design, and just as important. 
You want your aquarium to be in either a high traffic area, or at least where it's going to be seen the most. You don't want the aquarium in a area that receives a lot of natural sunlight. Too much natural light will cause unwanted algae to grow, and could affect the temperature of the aquarium as well. 
Regardless of what you decide, you can depend on Reef Route Aquatics to deliver the best results. Wither you're wanting an "In Wall," "Room Divider," or something as simple as putting together the pieces from a big box store, we can help. Contact Us today for more details. 
GET THE AQUARIUM HELP YOU NEED TODAY!
Check out the list of services we offer. We handle everything from aquarium installations, custom aquarium design, to aquarium cleaning. No matter what you need, we got you covered.
Aquarium Service
Fish tank cleaning can be a job! Have your aquarium cleaned and serviced by an Aquatics Specialist. 
More Info
Aquarium Installation
Custom aquarium design and setup. Allow our experience to save you time and money.
More Info
Aquarium Relocation
Across the room or across town. We're professional aquarium movers? Let us worry about the details. 
More Info
Aquarium Monitoring
Monitoring service for a low price. Having a second set of eyes is a great form of redundancy.
More Info
Turtle Tank Service
Keeping a turtle tank clean can be a challenge. We also service other semi-aquatic reptiles and animals.
More Info
Aquarium Testing
ICP-OES, lab grading aquarium water testing. We'll help you understand what's going on, and how to fix it.
More Info
Planted Aquarium Service
Aquatic Horticulture Service will keep the conditions prime for plant growth.
More Info
Reef Tank Service
There a lot more going on in a reef tank,. We can keep everything maintained.
More Info
Aquarium Design​
Your dreams are never too far from reality. Imagination, and budget are the only restrictions.
More Info
Quarantine Service​
Offerings quarantine services for all types of aquatic life. We'll deliver the healthiest specimens
More Info
If you're in the Murfreesboro Area
Please stop by Animal City on NW Broad St. They have high quality fish and equipment, and their staff is more than helpful!