Tennessee Aquarium Specialists
AQUARIUM SERVICE
IN THE MIDDLE TENNESSEE AREA
FISH TANK CLEANING SERVICE, AQUARIUM CLEANING AND MAINTENANCE.
TAKE ADVANTAGE OF OUR DECADES OF EXPERIENCE! 
Aquarium service near me. Get the fish tank help you need today!
PREMIER AQUARIUM SERVICE MADE EASY!
No matter what level of involvement you have with your aquarium, we have a affordable aquarium maintenance to suite your needs. If you're just needing monthly service, or you want us to take care of everything, We can get you the fish tank help you need today.
One time service is perfect for the busy hobbyist that needs that one time cleaning or right before a party or while your on vacation, so your aquarium looks it's best.
If you need help deciding which plan fits your needs, or what level of
service is recommended? We can schedule a free consultation to develop a
plan and provide the best possible care for your aquarium.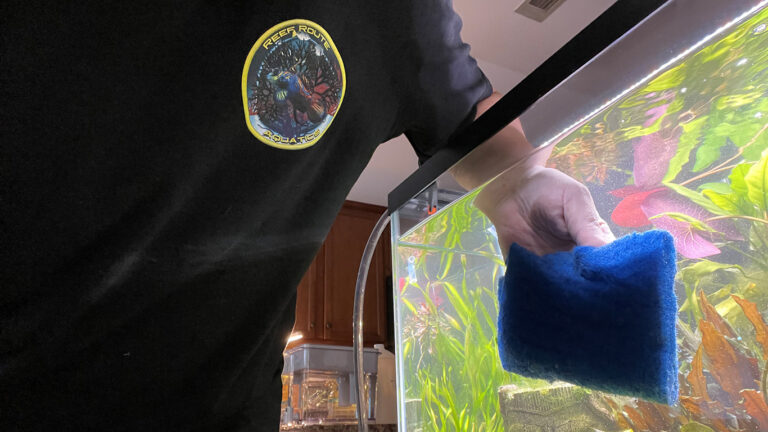 PROFESSIONAL FISH TANK CLEANING SERVICES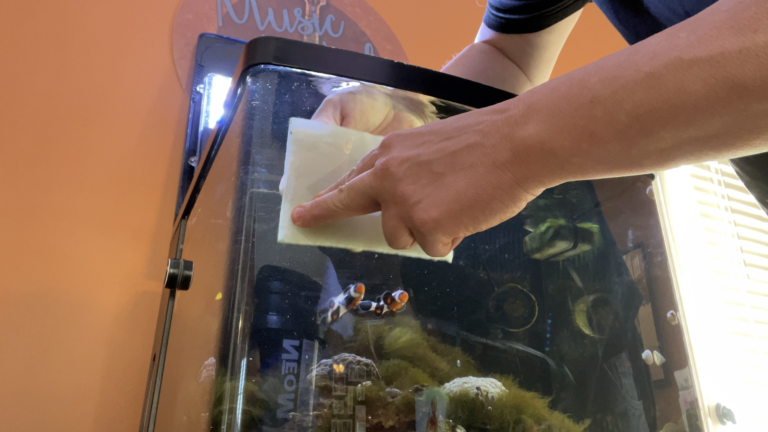 STANDARD WORK INCLUDED IN OUR EXPERT AQUARIUM CLEANING:
Water change (As needed to meet chemistry requirements.)
Substrate Vacuum. (If applicable)
Full and thorough cleaning of algae from all aquarium glass/acrylic surfaces.
Water polishing.
Cleaning and or rinsing of readily accessible filters, sponges and pads
Filter replacement (Customer provided/if supplied.)
Bacterial supplement (As needed)
Chemical testing of water/tank health diagnosis (As needed)
Visual check of equipment, air and water flow
Visual check of fish for headcount, disease, swimming and breathing
Cleaning protein skimmer (Saltwater/Reef tanks)
Refilling of auto feeder (If supplied)
Balance aquarium chemistry (As needed)
"Robert with Reef Route Aquatics is very professional, knowledgable and friendly. He cleans out my 30 gallon fish tank every month, and he does a great job. He's also very helpful with recommending tips for my tank and which products are best to purchase. Robert is very passionate about the aquatic industry, and it shows in his work. I would highly recommend him and Reef Route Aquatics!"
Service agreements gives you priority service and locked in pricing for one year.
Starting as low as…
BRONZE LEVEL
Aquarium Service Agreement
Half off additional aquariums

Standard Cleaning Service
SILVER LEVEL
Aquarium Service Agreement
Scheduled visit every 2 weeks

Emergency Service Available

Standard Cleaning Service
GOLD LEVEL
Aquarium Service Agreement
Emergency Service Available

Standard Cleaning Service
For aquariums larger than 90 gallons the typical fee for a service agreement is $1.00 per gallon. All prices are pending a free consultation.  
*Saltwater or RODI water is not included in pricing.
**Signed Service Agreement must be on file and renewed annually. The Service Agreement is not a contract and can be cancelled at any time.
High quality Brightwell Aquatics salt mix @35ppt for reef tanks and FOWLR systems

Reversed osmosis deionized water. Used for makeup water or to lower TDS in freshwater aquariums.

REMINERALIZED RODI WATER

$2.00

Seachem Equilibrium or Cichlid Lake Salt. For species specific water
ONE TIME AQUARIUM CLEANING SERVICE COST
Are you busy at work? Do you have guests coming over for dinner or a family gathering? Are you away on vacation and want to come home to a clean aquarium? We offer one time cleaning services for the busy hobbyist. 
One time service costs start at $130.00 up-to 90 gallons. Additional costs could include saltwater or other products necessary to properly maintain the aquarium. For aquariums larger than 90 gallons the price increases $1 per gallon. All prices are pending a free consultation.
In the event a customer wishes to continue service with Reef Route Aquatics and requests a service agreement, the paid difference will be credited towards their next invoice.
ONE TIME
Aquarium Cleaning Service
Standard Aquarium Services

Water Polishing upon request

Gravel Vacuum, Water Change

Filter Cleaning/Replacement
GET THE AQUARIUM HELP YOU NEED TODAY!
Check out the list of services we offer. We handle everything from aquarium installations to Aquarium cleaning. No matter what you need, we got you covered.
Aquarium Service
Fish tank cleaning can be a job! Have your aquarium cleaned and serviced by an Aquatics Specialist. 
More Info
Aquarium Installation
Custom aquarium design and setup. Allow our experience to save you time and money.
More Info
Aquarium Relocation
Across the room or across town. We're professional aquarium movers? Let us worry about the details. 
More Info
Aquarium Monitoring
Monitoring service for a low price. Having a second set of eyes is a great form of redundancy.
More Info
Turtle Tank Service
Keeping a turtle tank clean can be a challenge. We also service other semi-aquatic reptiles and animals.
More Info
Aquarium Testing
ICP-OES, lab grading aquarium water testing. We'll help you understand what's going on, and how to fix it.
More Info
Planted Aquarium Service
Aquatic Horticulture Service will keep the conditions prime for plant growth.
More Info
Reef Tank Service
There a lot more going on in a reef tank,. We can keep everything maintained.
More Info
Aquarium Design​
Your dreams are never too far from reality. Imagination, and budget are the only restrictions.
More Info
Quarantine Service​
Offerings quarantine services for all types of aquatic life. We'll deliver the healthiest specimens
More Info
If you're in the Murfreesboro Area
Please stop by Animal City on NW Broad St. They have high quality fish and equipment, and their staff is more than helpful!